Location
Oak Park, 10425 W. 64th Place, Arvada, CO, USA
Date
September 17, 2017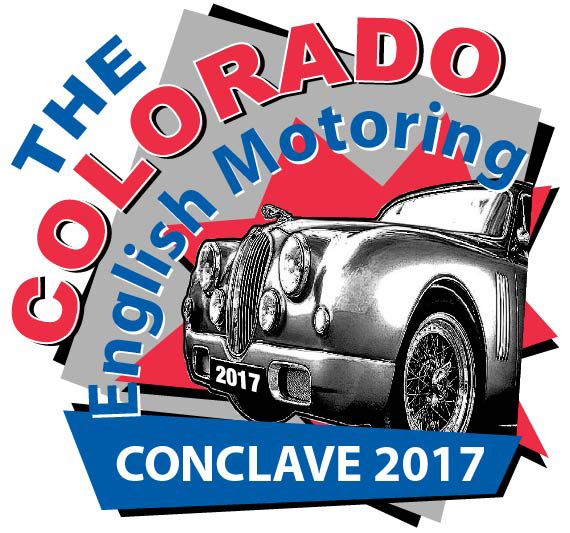 Start your Conclave weekend with "Ride the Rockies" tour, Saturday, September 16th. Hosted by the Colorado English Motoring Conclave, owners of all two, three, and four-wheeled British vehicles are invited to a day-long motoring tour of the Rocky Mountains. Don't wait until Sunday to begin the fun. Make the Conclave weekend complete by participating in the "Ride the Rockies" tour. Join your fellow British motoring enthusiasts in the beautiful Colorado Rocky Mountains. The tour will leave the Oak Park Conclave site and wind its way casually to a lunch time destination high in the mountains. For those who want a bit of fun and adventure along the way, the tour will incorporate a Gimmick Rallye. Awards will be presented to the top 3 scorers.
DATE: Saturday, September 16th
LOCATION: 8:30 AM Vehicles will assemble at Oak Park. 10:00 AM "Ride the Rockies" leaves Oak Park. Awards presented on Sunday.
REGISTRATION FEE: $20.00 in advance. $25.00 day of the event. (price also includes Conclave)
The 34rd Annual Colorado English Motoring Conclave, Sunday, September 17th. Once again, the City of Arvada has offered Oak Park for the Conclave. If you have come to the Conclave in the past, you know what a great day this can be. With your help we will have well over 500 British cars and bikes in attendance. Bring a picnic lunch or buy food and drink from the Kiwanis club (all profits go back to the community), and have a picnic under the trees. Bring your parts to sell at the Swap Meet or bring your list of parts you need to buy. Above all, bring yourselves and your vehicles, for your participation is necessary to make this event the highlight of Colorado British motoring.
DATE: Sunday, September 17th
LOCATION: Oak Park, W 64th Place. (see map) in Arvada. AGENDA: 7:30 AM Registration begins. 12:30 PM "Most Favorite" voting ends.
REGISTRATION FEE: $20.00 in advance. $25.00 day of the event. (see registration, includes Ride the Rockies)
1 Members Attending this event ↵
Want to add yourself to the list of attendees?
Please Sign In — or Register a new account (it's free!)
event/1793